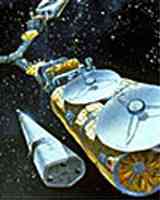 From their answers to the third question, Kohlhase hoped that good ideas would surface and be useful to the student teams as they move forward with their village designs. Starting a small community on another world is a big deal. It must be done right. There is nothing quite like a "clean slate" upon which to write. Brainstorming is a must in the beginning, but well–conceived choices must eventually be made. And of course the end result should be an integrated and effective blend of the arts, the sciences, the very best technology, and sound engineering.

By the way, each contributor was limited to only two images on the MMP site – a personal image and a "favorite–works" image. For this reason, each contributor was also allowed to include links to other web sites, including even their own, if desired. In a few of these cases, works may be for sale, but that is merely coincidental, with the primary objective being to simply show examples of other works by some of the contributors.

Well, you now have two choices. You could just start jumping around and browsing the individual responses from the many different creative people who contributed to this site, or you could continue along for a bit to see what your host learned from what the many contributors had to say. You will hopefully find it interesting and rewarding . . .