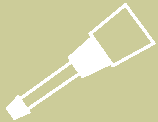 The works I produce come in two categories: those in photography which I "trap" in my camera, and those which I consciously create, either in writing or in my workshop. Images I capture on film, that I consider artistic or beautiful, are most often the result of being in the right place at the right time. Especially in landscape photography, I rarely set up a picture I want; rather, I am fortunate to be blessed with a good eye for composition and a good sense of beauty in the outdoors. Even for scientific photography, advance knowledge and planning and obvious composition don't ensure a good image. Being there to catch the view is important - one must be out and about, an aware observer of the world around oneself, to find the opportunities. In that sense, one makes one's own luck.

In my writing, which is all non-fiction, my goal is to share what I know with others, to inspire interest and excite readers the way I am excited about the subject. Whether the subject is a natural phenomenon or instructions for doing a science experiment, my goal is to share the joy of understanding with the reader, explain how it works, and get the reader to go out and learn more, and to do it as plainly and correctly as possible.

The creative process for software or in my workshop is one of identifying a problem and then devising the best solution to it. In the workshop I face the limitations of the tools and materials I have easy access to. Often the construction process, "puttering", means searching through my "junk" drawers (my wife just doesn't understand that one man's trash is another man's treasure) until the right combination of potential parts presents itself. Then it may be hours of work to turn potential parts into a finished product.

My process of creation starts with wanting to share with others, seeing a need, or seeing a possible improvement. It helps for the problem to be intriguing and I must want to solve it. When I want to share, writing or speaking is involved. Very often, when I already have the necessary background knowledge, the work writes itself in a rush of words that is hard to stop.

My process for invention (and sometimes for sharing) often requires cogitation time. Sometimes it is short, standing over the junk drawer picking out parts before construction begins. Sometimes it takes days or weeks, when ideas rattle around in the back of my mind without conscious acknowledgement or during private times such as on my bicycle commute when I have time to think. Finally, an "aha!" moment occurs and the solution presents itself. Even then, after a solution is found, I seek an elegant solution that refines it to its simplest, barest, but most complete level.

In all of this process, I think a strong, broad base of background knowledge is necessary. A sense of curiosity and wonder about the world and the wherewithal to satisfy that curiosity and collect that knowledge, from books and personal experiences, permit one to be creative.