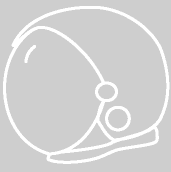 An astronaut makes a conscious choice to repeatedly venture into a harsh environment to gain new knowledge. He or she must confont the fact that the risks of spaceflight are real and ever–present. With full knowledge of those cold realities, one must still perform to exacting standards, maintaining a level of professionalism commensurate with the great privilege of flying into space on behalf of thousands of fellow explorers.

I'm always aware of the many thousands, if not millions, of kindred spirits who accompany me vicariously on each mission I'm privileged to fly. That sense of representing others, of living the dreams of those who would instantly step willingly off the planet with me, keeps me focused on the larger responsibility I've been given.

To live up to those dreams and spark those imaginations, an astronaut must commit totally to excellence. Our moments in space are precious, so valuable, that the crewmembers must be prepared to execute the mission as well as humanly possible. This standard requires exacting attention to detail, and a willingness to pursue problems to their final resolution. Astronauts must be dogged in their determination to succeed. And it starts with winning the job! I was turned down twice by NASA before finally gaining a job interview in 1989.

Spaceflight today is a "people" job. An astronaut must have drive and ambition, certainly, but not for personal gain. A good astronaut takes that determination to succeed and channels it toward the success of the TEAM – the crew. Teamwork is what we really respect, and good teamwork is a joy to experience. All share the work and pain of months – even years – of preparation for each flight; all share the satisfaction and pride in a mission done well.

The only unsuccessful astronauts I've known were those very few who thought the mission was about making themselves look good, who saw spaceflight as an opportunity to advance their own status and reputation. They made the job harder for their crewmates, who had to pick up the work left undone by someone pushing in a different direction. Such a crewmember, pursuing a private agenda, would be a potential disaster on a Mars mission.

Spaceflight, either on the space station or on a voyage to Mars, demands cooperation and practiced, selfless teamwork. We need people who practice the skill of getting along with others, who submerge their own interests in the team's success, and who offer their own talents in support of the crew's collective capabilities. Exceptional teamwork is the minimum standard in spaceflight – it can literally be a matter of life and death.

In working with the team, an astronaut must be forthright and outspoken in communicating with others. Problems must be confronted directly, attacked vigorously, and solved promptly. Misunderstandings between crewmembers, or between a crew and mission control, have occurred in spaceflight, and they can only be avoided on Mars missions by clear, straightforward communication.

Finally, an astronaut at the end of this century must be a dreamer. We've remained in Earth orbit for more than a quarter of a century; in the new millennium, we need colleagues with the enthusiasm to take us outward once again, who can envision astronauts working on the new space station, returning to an outpost on the Moon, exploring the asteroid swarm near Earth, and establishing a settlement on Mars. That imagination must have the patience to see hard work pay off, to see the dream realized. I labor now in the "trenches" of low Earth orbit with the hope of one day following the Apollo explorers who inspired me.