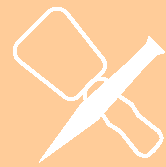 At this moment I see two parts, mental and physical. It is important to me that they are hard to separate. Mental: mathematics, its ideas, symbols, and equations are an essential part of my personal design language. Much of my sculptural body of work celebrates the remarkable achievements of mathematics as an abstract art form––a human activity spanning thousands of years. These ideas combined with my tools and materials take the form of an undeniable will.

Physical: my aesthetic choice of raw materials tends to be stone from geological activity spanning millions of years. It is very exciting for me to learn a new stone. I have one now, one billion years old, waiting for me to stop writing here. I use many different kinds of specialized tools, including computers, virtual image projection from equations, tool position and orientation monitoring, air hammers and drills, carbide cutters, diamond corers and saws, diamond chains, cables, pulleys, hydraulic rams, gantry cranes. This is a high risk environment of air, electricity, water, dust, and chips which calls for special breathing apparatus, vision and hearing protection, various kinds of body armor and insulation. Definitely postmodern man. I use hammer and chisel too, but while a lot has changed, it is the same as when our ancestors banged a soft rock with a hard rock and made a magical form.

My mathematical forms arrive by my subtractive process: my computer tool position and orientation monitoring system does not do the cutting work, I do. The system gives me quantitative information. I want it this way because I learn the mathematical form which no one has ever seen, touched, felt, walked around, or crawled through. This learning is like learning a piece of music or dance by heart. Having learned the new form, it becomes part of my sculptural repertoire, independently now of the computer system. My studio is a door or canal through which mathematically designed things take form with Earth's geological materials. For the mental part, the same mathematics and design language is true on Mars; for the physical part, what would be the result of my working with martian materials?