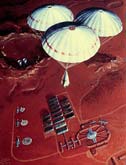 But artists aren't the only ones who need to tap their creativity to picture the future on Mars. Scientists and engineers at NASA's Jet Propulsion Laboratory (JPL) meet in project teams to dream of space exploration of the planets. The job of these JPL systems designers is to create the systems necessary to keep the NASA astronaut planetary mission specialists alive... and help them thrive. Inside you'll see their works of creativity that make space travel possible.

Finally, imagine yourself a NASA astronaut like John Glenn or Kathy Sullivan... boarding a planetary rocket to hurtle towards Mars to build the first ever extraterrestrial community built by humans. Like NASA astronaut Sullivan, you'll need every creative urge tuned perfectly to bring your fellow NASA astronauts safely to Mars and then even more creativity to brave the Martian weather and build a lasting Mars colony.

Now brave astronauts, fasten your seatbelts and prepare to enter a world of creativity and imagination...enter the Mars Millennium Project 2030 Artists, Scientists, Engineers and Astronauts page.

The Mars Millennium Project 2030 is a national arts sciences and technology education initiative sponsored jointly by NASA, NASA/JPL, the J. Paul Getty Trust, the National Endowment for the Arts, the Department of Education, and the White House Millennium Council.